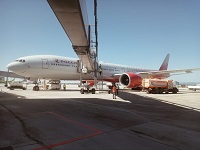 On the 07th of August in the international airport of Yuzhno-Sakhalinsk (Khomutovo) a new air-terminal complex was put into operation. At the opening ceremony Valery Limarenko, Governor of the Sakhalin Region, highly appreciated this important event and especially noticed that new air terminal operation offered additional opportunities for Sakhalin and nearest Russian regions intensive development.
The new air terminal became the biggest in the Far Eastern Federal District: its total area is about 47,5 thousand square meters, planned throughput capacity: in the domestic air lines — 1 thousand passengers per hour, in the international air lines — 600 passengers per hour. Volume of investments in construction exceeded 12 billion rubles. It is obvious that due to putting into operation of the up-to-date air terminal furnished with high-technology equipment, the international airport of Yuzhno-Sakhalinsk will soon become the largest regional passenger and freight transit hub.
The first flight in the new air terminal which was greeted by a traditional water arch became the flight of Rossiya airlines arrived from Moscow. The plane refueling was provided by refueling complex of Aerofuels Kamchatka– a branch of Yuzhno-Sakhalinsk which has been operating in the airport of Khomutovo (Yuzhno-Sakhalinsk) since August 2014; it obtains a modern fuel and lubricant storage, its own quality laboratory, new refuelers and highly qualified personnel. TZK has all required certificates and licenses, regularly and successfully passes industry-specific inspections and offers refueling services to its customers, which meet the highest Russian and international aviation requirements in the field of refueling activities.